Many people want to know if the modern shower curtains suitable for their bathrooms when they are purchasing shower curtain. The answer obviously is yes. Here we will share you how to choose a right size of shower curtain for your bathroom.
First:the size of shower curtain is a little more wider than our bathroom, for example, the bathroom is 150cm width then 170cm should be your final size. The curtain size is better more wider than its actual size but not narrower than its for which can not used effectively. Usually the shower curtain is commonly designed with some pleated detail to make it look pretty without too much long avoid to get wet or damage easy when walk without careful.
Second:shower curtain usually has colorful pattern that made from printed craft. It contain some smell sometimes, especially when it is just finished package from factory. After we taking it back home, hanging up outside under the sunshine only a few minute smell is gone. It is consider that shower curtain is made from a pool fabric if it still has strong smell after a long time hanging up outside.
Third of the shower curtain has great craft advanced for many shower curtain without any smell cause of the Eco-friendly material. These kinds of shower curtains have great water resistance and elastic character in brilliant color. Many of the patterns are fashionable and creation styles and easy to clean.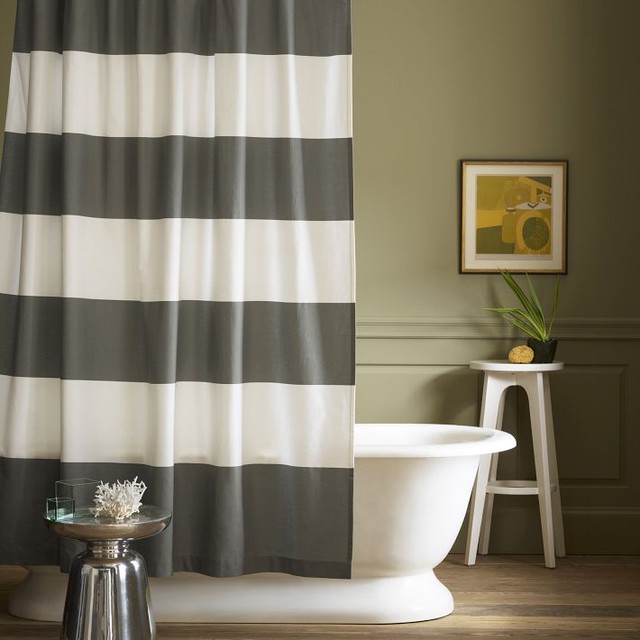 A moisture absorbent can be placed in bathroom to prevent shower curtain become mildew. Do not use bleaching agents to wash shower curtain for it can make colored curtain become fade, instead of using soap. Dipped some salt or vinegar on brush to clean the curtain bottom where is the most dirty area of shower curtain.
The size of shower curtain is connect to your bathroom's size. Generally speaking, the 84 inch length is perfect for your bathroom.